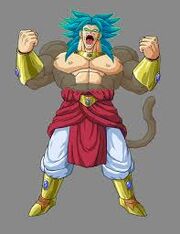 Nightmare Super Saiyan
is the final ascension beyond the level of
Legendary Super Saiyan ∞
and is a form that is exclusive to
Broly
, though it has been hinted that Goku could in theory access it as well. This form is one of the most powerful around, easily surpassing
Super Saiyan God
and Super Saiyan God Super Saiyan. To achieve this form, Broly in hell began to train for an insane length of time with the God of Destruction known as Champa who put him through trials of hellish proportions and it was through this, his constant taunts, and the ever-burning anger inside of him about Goku which caused him to power up to a
Legendary Super Saiyan ∞
by channeling the God Ki that Champa bestowed upon him into his rage and soon after, the portly cat sent him on a collision course with a familiar face, the God of Destruction of Universe 7, Beerus. Shocked and angered by the sudden appearance of the monstrous warrior, Beerus had no choice but to do battle with the massive Saiyan and despite the large power increase, it was thanks to his inexperience and lack of ability to handle the transformation since he didn't have the Dragon Ball Z. With the warrior now on his knees almost in a kneeling gesture, Beerus, who was impressed with the show of strength, held out his hand in an attempt to try and convince the warrior to return to Earth. Broly, on the other hand, had much different plans, he grabbed Beerus by the arms and managed to transform again and with the God of Destruction in his grasp, the Saiyan began to crush his arms which sent several trails of blood trickling down to the ground and proceeded to siphon every bit of energy out of him until there was nothing but a lifeless husk. With a fiery purple aura and a eardrum shattering roar, Broly awoke every single bit of his hidden potential in one explosive transformation. With this new power in hand, Broly looked to see Whis standing in shock at the foot of Beerus' temple. With a sadistic grin on his face, Broly flew right towards Earth with the full in intention of wiping out not only the planet itself and
Goku
, but every omniverse in existence.
Characteristics and Power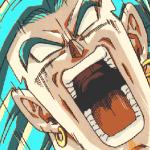 When compared to Beerus, Broly in this new form was 300 Nonillion times stronger than him, which puts him on a level far beyond beings who have seemingly limitless power such as Superman. The power is so great in fact that a three second power-up is possibly enough to nearly decimate 3 omniverses. This form is capable of obliterating weak fighters just through the aura alone for the aura no longer acts like an aura but rather a relentless shockwave of Ki. The form's look is very similar to a Super Saiyan 4 with the exception that the fur takes a brown color that is very similar to a standard Great Ape and Light Turquoise hair. This form can ascend to a outlandishly powerful God version of the transformation which looks eerily similar to a Super Saiyan 5 along with having the ability to destroy and even permanently wipe out gods and goddesses from existence meaning they do not appear in Other World nor do they appear in Hell. Instead they're stuck in purgatory and they cannot get out without the help of the Dragon Ball Z. Broly is the only user of this form as it requires for someone to reach Legendary Super Saiyan ∞ and then channel their God Ki into it which must be provided by a God of Destruction.
How It Was Defeated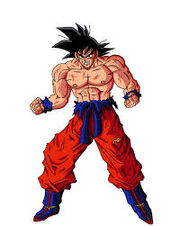 Goku managed to barely defeat Broly with the help of
Legendary Super Saiyan ∞
Goku Jr.
,
Super Saiyan 200
Vegeta
and the now newly rejuvenated
Super Saiyan 10
Krillin
who only managed to keep up with the fight by wishing for his body to have all Saiyan cells and for all of his friends to have all of their potential unleashed.
Goku
managed to win by gathering all of his friends energy into a
Spirit Kamehameha
which completely wiped Broly out and in doing so, managed to release all of those that were locked up in purgatory, including his wife,
Chi-Chi
and thus peace was restored and no one would come to the
Earth
again.
Ad blocker interference detected!
Wikia is a free-to-use site that makes money from advertising. We have a modified experience for viewers using ad blockers

Wikia is not accessible if you've made further modifications. Remove the custom ad blocker rule(s) and the page will load as expected.