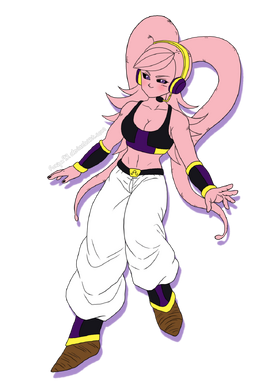 Majin Abuu Buu as she appears, Majin Abuu Buu has extremely long downwards pink spiked Hair With three front hairs, and Majin Abuu Buu is pink skinned. Majin Abuu Buu has pink eyebrows too. she has black eyelids and she has light purple eyes W/black iries, she also wears a dark purple and yellow tubetop with a black, short sleeveless jacket, showing her bewbs and pink hourglass curved stomach with a belly button. She also wears a black and yellow square belt. She also wears baggy pants, armbands, has black fingernails, and she has a mouthpiece and long pigtailed ears.
Majin Abuu Buu's Profile And Description
Majin Abuu Buu And Her Daughters Majin Nicole, Alexandra, Alexa, Marianna, Cassandra, Cassie, Katie, Kirsten, Kathleen, Krystal, Jessica, Jennifer, Lisa, Maggie, Frenchie, Laura, Lauren, Michelle, Mindy, Bethany, Beth, Christina, Victoria, Veronica, Gretchen, Becky, Venus, Jasmine, Tanya, Torrie, Clarissa, Hannah, Lindsay And Holly Buu Majin Annabelle Anna, Annie, Rosalina, Alina And Jade Buu Majin Tiffany Buu Majin Rose Buu And Majin Kimberly Buu Majin Amy, Nikki, Maria, Marie, Jessie, Julie, Leslie, Lindsey, Megan, Morgan, Kinsey, Rosa, Patricia, Danica, Naomi, Rachael, Rochelle, Lillian And Rosemary Buu, Majin Carla, Amber, Lillie And Cella Buu Along With Majin Anastacia Buu, Majin Jazmine Buu, Majin Jasmine Buu, Majin Susan Buu, Majin Susanna Buu, Majin Melissa Buu, Majin Alyssa Buu, Majin Anne Buu, Majin Jennie Buu, Majin Dawn Buu, Majin Vanessa Buu, Majin Leslie Buu, Majin Yvonne Buu And Majin Taylor-Shea Buu Were The Female Clones Of Majin Buu Majin Abuu Buu Was The Good Female Incarnation Of Majin Buu She First Appeared When Majin Buu Was Hatched From His Egg She Is Arguably The Most Powerful And Strongest Female Buu Ever Her Power Level 950,000,000 Surpasses Majin Buu She And Her Daughters Can Also Regenerate Themselves She Also Happens To Be One Of The Most Skilled Majins She Also Happens To Be One Of The Hottest, Prettiest And Sexiest Majins As Well Debuting In Dragon Ball AF Her Character Profile Says She Enjoys Fighting Very Much
Ad blocker interference detected!
Wikia is a free-to-use site that makes money from advertising. We have a modified experience for viewers using ad blockers

Wikia is not accessible if you've made further modifications. Remove the custom ad blocker rule(s) and the page will load as expected.